New hydraulic folding 6.3m grassland rejuvenator assures high work rates
24 April 2017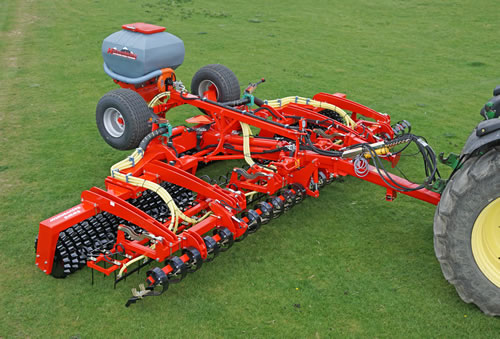 At the Grassland and Muck Event, OPICO will be launching a 6.3m hydraulic folding version of its HE-VA Sward Rejuvenator. Designed for overseeding grassland, but also suitable for the reseeding of cultivated ground, this new wider machine, coupled with an Air 16 seeder, enables higher work rates to be achieved.

As with the original 3m model, the new 6.3m Sward Rejuvenator consists of an aggressive Shattaboard with slicing plates, followed by two rows of heavy duty harrow tines, and a heavy 600mm diameter Prisma roller. The slicing plates and harrow tines break up and level the soil surface in front of the grass seed outlets, and the soil is then firmed behind by the Prisma roller.
The 6.3m model includes HE-VA's SAT weight transfer system which ensures an even weight distribution across its three frames. In addition, it has 5 pivot points across its three sections ensuring they follow the contours of the field (2 wing section pivots, 2 end pivots and a centre section pivoting on the tractor drawbar).
It folds down hydraulically to a 2.5m width for safe transport between fields and locations.
With an Air 16 seeder mounted, seeding rates of up to 80kg/ha are possible at normal working speeds (5-8km/ha).  The seeder's hydraulic fan handles all types of seed and sowing rates: from 1-2kg/ha for clover seed, up to 80kg/ha for grass seed. Accuracy and flexibility are assured thanks to radar groundspeed and electronic variable rate control in the cab.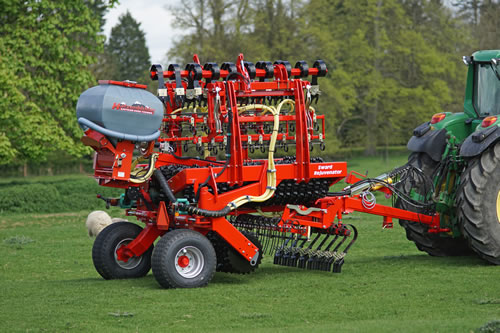 In addition, with 16 seed outlets spaced across 6.3m of working width, there is a quadruple overlap of seed between outlets; this gives a robust spread pattern and therefore the most even seed distribution of any machine on the market.
The Sward Rejuvenator is ideal for use in badly poached fields which require restoration. It also enables one-pass seeding on cultivated land where the Prisma Roller cracks and breaks clods produced by the slicing plates and tines, to create a fine tilth for grass seed to germinate in. It can be used (without the seeder) for harrowing grassland to remove trash and stimulate grass growth, and for molehill levelling.
OPICO's James Woolway adds: "The new 6.3m Rejuvenator enables farmers and contractors to maximise the work done in the short windows when seeding conditions are optimum. The machine is ideal for overseeding, and the Air 16 seeder enables high capacity seeding on cultivated ground. It folds down easily for transport, speeding transfer times between fields and farms."
The new 6.3m Sward Rejuvenator, together with an Air 16 seeder, retails at £38,824 +VAT.