2017 Magna grain dryers - spec upgrades extend working life
8 August 2017
Stainless steel and galvanisation give added longevity to Magna grain dryers.
OPICO's range of diesel-fired Magna grain dryers now have even better longevity thanks to modifications, made for the 2017 season, to components in corrosion-susceptible areas.
Areas such as the plenum and main bin frame are exposed to a lot of moisture and steam during the drying process. So now the whole upper bin and plenum are made of stainless steel or galvanised steel, to protect them against corrosion. The bottom well, loading hopper and intake auger tube have also been galvanised completely.
OPICO's James Woolway explains: "The resultant small increase in build cost is far outweighed by the benefits: an extended working life, thereby reducing the cost of ownership and cost per tonne of drying. Plus a higher resale value when dryers are sold on."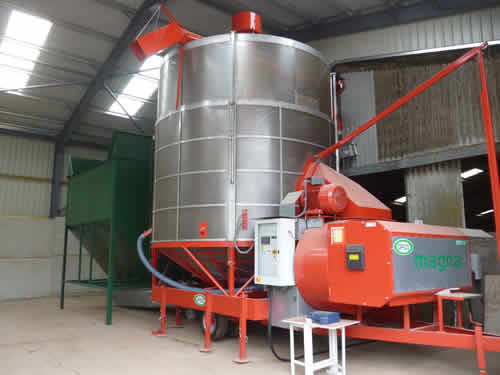 Recirculating mobile batch dryers, like the Magna dryers, have the advantage over on-floor stores or continuous flow systems in that hectolitre weights can be increased. The mode of action of these dryers removes chaff, weed seeds and broken grains; grain is also cleaned and polished.
Farmers really looking to capitalise on the cleaning capability of their dryer can opt for an additional dust extraction system – the Sky Vac. This removes dust and fines from the grain as it is dried, leaving a cleaner, better-finished sample with an even higher hectolitre weight.
Magna dryers are capable of higher throughputs than similar-sized dryers thanks to their extra-large drying zones.  The most popular model is the 2910 (pictured), which has a 29 tonne holding capacity. This dryer is capable of a 14 tonne per hour throughput: based on a 5% moisture reduction from 21% to 16%, and including loading, heating, cooling and unloading times. Thus it is capable of drying nearly 300 tonnes in a 24 hour period.
In addition, the Automatic Magna dryers include a number of features which give operators greater flexibility and control. For example, the ability to set the times allowed for loading and discharging of grain, and an SMS text messaging system which forewarns when the drying cycle is nearing completion.
The diesel-fired Magna dryer range offers holding capacities of between 12t and 48t, and can be powered by PTO, electricity or diesel